Corrosion is an inherent problem that plagues any industry which utilises and/or manufactures metal parts. BarCorr (a contraction for Barrier to Corrosion) Coatings is dedicated to working with these industries to prevent the onset of corrosion, extending the life of the product and therefore increasing customer satisfaction in our clients' final product.

Primarily focused on the auto industry, but with far reaching applications in other industrial operations, BarCorr commits to deliver a long term, engineered solution to corrosion issues in a cost effective manner. We pride ourselves in our speed to respond, quality of final product and rigorous follow up to assure client satisfaction.

We invite you to explore our website and feel free to contact us if you have any questions about our services.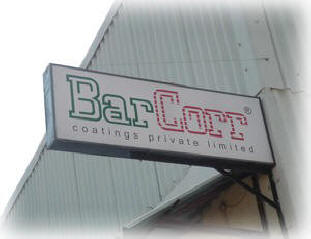 22-23 Ambattur Industrial Estate, Chennai, Tamil Nadu, India, 600058
Tel: +91 44 4218 0425; Fax: +91 44 4206 0245